Services offered
Audit of financial and consolidated statements
Limited reviews.
Special reports:

Subsidy Audits
Capital Increase by Credit Compensation or against reserves.
Capital Reduction to compensate for losses.
Valuation of Shares/Units for Mergers and Acquisitions of Companies.
Balance Checking for Merges and Splitting of Companies.
Other statutory audits prescribed by mercantile laws.

Others:

Valuation of companies.
Planning and financial restructuring.
Analysis and implementation of internal control systems.
Feasibility studies
Economic-financial diagnosis of companies.
Support and advice for drawing up accounting statements.
ADADE JOURNAL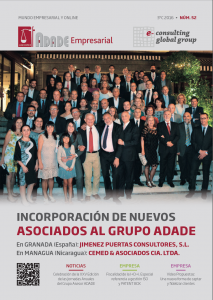 OTHER SERVICES