Appointment of auditors
To audit the financial statements:
General Meeting: before the end of the year to be audited, auditors may be appointed for a period of not less than three years and not more than nine. After nine years, the appointment may be extended annually for a maximum period of three years.
The Mercantile Registrar or Courts
Under certain circumstances, the Mercantile Register directly appoints accounting experts (auditors), regardless of whether the company has appointed auditor of accounts, the most common being the following:
Company mergers
Company division
In the event of suspension, bankruptcy, liquidation of companies, redundancies, or when members or legal representatives of the workers are entitled to consideration.
Application to the Court for an Audit of Accounts, at the request of a legitimate interested party.
Any partner of corporations or limited liability companies may request an audit to verify the accounts, without the company having established, appointed Auditors.
Non-cash contributions in Corporations.
In court and/or employment proceedings (usually relating to claims for payment) for opinions on specific matters at issue, in order to best provide information.
At the request of any person who is party to legal or employment proceedings.
ADADE JOURNAL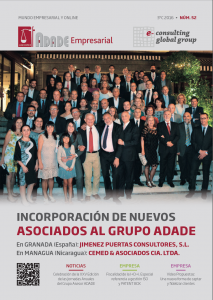 OTHER SERVICES